Tuesday, June 10, 2014
A couple years back I had landed my first apartment on my own. Many land their first apartment, but this was really significant for me because I wasn't just getting it for myself, but for my 3 girls as well. I was also finding my roots again so to speak in what a possible life could look like moving forward.
I was just recently separated from my marriage in 2011 and had no lasting plan to live in any one spot as the world significantly changed for me. The last year had been 4-5 moves to homes throughout the city. All of the places were with very gracious people to live with, but I knew that couldn't last. My girls as well were feeling the strain of wondering where daddy was going to be next.
With my best efforts, I tried to establish myself near the girls in a place that could allow me to comfortably accommodate my girls staying with me for various periods of time. (as I look back, I really needed something more stable as well). It was the month of April. I was finishing up my thesis for my masters at the same time while still trying to do the 'pastors life' (if any of you know, we get pretty busy in the month of April and especially at my work).
After looking for a bit, I found a fairly good spot. The bonus to me is that it was a walkout basement apartment (lots of light) overlooking a pond! Now if you know a bit about me, you'd catch on that I loved nature; the smells of all the trees and vegetation, the sight of water and a forest, the sounds of the animals (especially birds, crickets and 'peepers'). It looked hand picked for me. This was a moment where I felt loved and cared fro by God. I was to move in the first of May. One major check mark!
The other check mark on my list of to do's was graduate. Luckily I pulled it off (also with many gracious editors and supporting characters!!). The registrar of the school made a special phone call to me to see if I could make the ceremony, but I declined as I wasn't quite feeling so festive. She felt sad for me and was hoping I could come. I think also felt very unworthy about being celebrated in any way.
Looking back, I felt God was making an effort to affirm me and celebrate me in some small way with the extra phone call.
The registrar told me to come pick up my diploma in the second week of May from their offices and wished me the best. I remember hanging up the phone and feeling shaky, because this accomplishment to me spoke of God' generosity and strength to do this. It wasn't just my Masters I received, but also an honorary BA ! (because of the type of work I did in ministry, 18years to that point) To a nonacademic with dyslexia, and poor marks all my life, I felt good to be done. So eventually, I went to the seminary and grabbed this heavy padded manila envelope that contained my diploma. Just to be sure, I ripped a corner of the envelope just enough so I could peer in and see the paper and shiny gold embossed seals. When I got home, I tossed it behind my bookcase so my girls would find it and want to play with it and forgot about it
Once I felt this was a 'go ahead' to prepare to slow things down and establish a new home, I was fortunate to see other provisions from yard sales and generous people. I was ready to have my girls sleep over anytime. My girls loved it once May 1st came and all sorts of new adventures were had as we explored and listened to nature all around us. This is not happily ever after though…
Significant financial concerns came up also in this month. Some I did not for see coming. The problem with that was I had already maxed out all my credit from the last years living. And so once I put the first and last on my place, I had a very tight budget to work with. The new unforeseen financial concern now put me back about $300 short from paying next month's rent. I had only a week and a half to find the money and no clear option came forward. I dealt with pride, self doubt and shame as my usual optimistic self was not working for me. It was especially bothersome as I had just chatted with my girls over a suppertime the week before saying "See how God is caring for us! He's given us a place with many adventures, He made sure all the things would line up so well. Let's remember this so we can always look back and see how God loves us." Now I felt very down from my doubts, and worse, because I felt now I couldn't provide this great place and I wasn't listening to my own words—shame seeped in.
I kept pretty quiet about the fact I didn't have the money. I was somewhat prideful and embarrassed,
and a little depressed,,,,
One evening (close to the rent being due) that I had my girls, I got talking to my eldest daughter Liv about the good things God had provided for us and how He continues to be with us. (feeling a bit hypocritical) .
One of the points I was grateful for was my recent achievement in schooling. Liv then looked at me and asked to see my diploma. So I got up and went behind my book case and found the envelope. I ripped the rest of the envelop open and pulled it out to show Liv. She carefully held it as I noticed there were more things in the envelope. There was the program of the graduation ceremony and an another little envelope. I pulled them both out to see what there were about. I first looked at the program to find my name in the list of the graduating class. I looked a little closer and found out that I had been awarded the evangelistic award!!
Furthermore, I opened up the little envelope and found a cheque for $500!!! (apparently they give $ for awards!!—never had an award before) .
It was enough to pay my rent and have extra for food (that I really needed!!).
I'm not sure Liv noticed my shocked face, but I thanked her for asking me about that and told her God used her to help me live. She smiled and I felt one more time that God watches out for me and all my details. I felt I was being told how pleased He was of me and He used the diploma to do it.
-joe
Monday, October 01, 2012
New York
I love to take long road trips. Especially to places I haven't been before. One of the 'bucket list' trips I wanted to take was to New York City. It's not just because of all the media attention that I wanted to go, but something really appealed to me about being in a huge city and feeling small and anonymous. I took my bike down and decided to bike all around Manhattan Island. I planned on this trip to be a 2-3 day silent retreat which only heightened the sense of noise, people and aliveness of the city. I stayed in hostels took in some of the tourist sites and sat in silence for hours at a time (Rockefeller, Statue of Liberty, Empire State building, Central Park, Time Square, Art museum).
One of the great surprises of the trip was the way people were really nice to each other. I love to people watch and I expected to hear horns honking, people swearing and yelling at each other just like the stereotypical portrayal of New York. I didn't see that though- at all! What I saw were moments of generosity, grace and welcome.
The two mornings I was in New York, I would go for an early morning bike ride through Central Park (5am) and then I went to a local Starbucks at Broadway and Central Parkway (Columbus Circle) for a coffee and atmosphere. I like people watching, and I got a lot of time to do this on this retreat-especially at this Starbucks.
One of the first things I notice walking into this smaller, very busy coffee shop with a very long line up, and everyone seemed quite content to be slowed down at 7:30 in the morning- in New York! No one complained, no one yelled out "can we get another person working behind the counter to speed things up?" (which I have seen many times in Canada) Also as I grabbed a seat by the window beside a man, he smiled, welcomed me, and even moved his stuff a little over to give me room even though I had tons of room to sit. That same man even struck up a conversation with me about computers (which I had pulled out) and life. (yes this broke my silent retreat, but worth it)
At first it was over what technology is available now (a topic I am not versed in by any means), but then moved into a talk on how people are so busy and distant from each other. At first I thought 'of course, this is New York" (–a little prejudiced I guess) but he told me he's lived in New York for many years. I believe he had Jamaican roots. Our conversation never got into spiritual things but his presence with me was a reminder of the Holy Spirit who welcomes, engages and makes me aware of the important things.
I also tend to be pretty shy when it comes to meeting people, especially in large group contexts. So my position is usually let others lead and initiate most conversations. This man took that in a way that was safe and engaging (yes I thought I was being set up for something for a split second J, but there was such a disarming genuineness in his eyes)
Later I saw a man who would typically be called 'homeless' standing near my bike. He was paying special attention to it as he smoked and I was glad at that moment I locked it up(not that my bike draws special attention). He walked over to it, leaned over it and fidgeted with it for a sec. I felt like I had to run out (thinking he had wirecutters ) and felt the lump in my gut of a very possible confrontation. As I stood, I could see more clearly that he was actually turning my headlight off.
I had a battery powered headlight that sat on my handlebars so I could bike at night. I had gotten up that morning at five to ride in central park and once the day got light enough, I forgot it was on. This man saved my battery!
I did finally get up and went to him and thanked him for such a considerate move (with a bit of humble pie to feed my prejudiced self). He said to me "oh I hate that myself on my bike so I thought to save someone else the hassle". –good moment. So good trip and with all considered, I took a picture of the sun just peaking around the skyscrapers as a reminder of the dawn, a reminder of light in darkness, and considerate/welcoming/generous people in one of the busiest places in the world.
After the trip, I painted it as a reflection and reminder to my own soul. Nothing special, but saved lots on counseling over it!
Monday, June 25, 2012
I took my girls and my mom to a resort in Quebec. I was given a free week to stay at a time share by a gracious gift, that the owners couldn't use so it landed in my lap.
The girls were pumped! (ages 6,4, and almost 2) I was excited but I was much more involved in the journey because of the energy and anticipation of my girls. They are adventurers! I have seen on many occasions where my girls all of a sudden become much more loving, forgiving, gracious, generous, at peace, and wide eyed on the adventures we take. This can happen with a walk through a local park or forest, but was clear to me on the trip to Quebec.
The 6-7 hour trip was filled with stops, and interactions about where we were going. The girls did great (as opposed to fighting and crying all the way) We finally landed at the place and settled in. The resort was nestled in a valley of sorts on a lake. Each day we would swim (they had an indoor pool, outdoor pool and a lake!), go for a hike up the cliff (half a KM uphill!) and pick raspberries and blackberries all around us.
My kids have this amazing and healing way of seeing nature. Rocks, trees, plants and bugs are wondrous and worthy of hours of their attention. I am one who has a hard time slowing down and was pleasantly surprised and refreshed at the pace the kids wanted. It was that child like approach to the trip that made the whole thing such a memory.
I got the strong sense that God was reminding me over and over that I need to be more like my girls each day of my life –wide eyed, wondering, anticipating, gracious, generous. I was finding it quite easy to get stuck in negative spirals at the time we went on the trip and I needed to do heart check. I still read and prayed and wrote in my journal, but still couldn't break the pattern. I was getting quite discouraged by my negative slump. It was the letting go of my concerns and me centeredness and focusing on my girls that started kicking the door open to joy. I knew the verse "Whatever things are pure, lovely, excellent, worthy of celebrate-focus on these things (Phil 4:8), but having it modeled for me was what I needed. I am grateful for God for my little teachers!
Monday, June 04, 2012
Over the last little while, I have been finding time to reconnect with my adventurous side. I could blog long entries for each of these adventures, but since I haven't written in a long,, long,,, long time, I will sum up those adventures with pictures and captions. Each of the stories have been deep meaningful times of reconnecting with God as well. He has been showing up to me in the ways I have needed to hear, and in the ways I have needed to be grateful (Worshipful)
Worship for me in about capturing and celebrating the ways God reveals His character, heart and presence in my everyday life. That seems to take a new level for me when I am in an adventure mode. I think it is possible to see God in a new way because of the adventurers heart. One who goes on an adventure (whether some corner of the earth, a missions trip, or on a vacation to a new land or area you haven't been before) carries some key skills to seeing and worshiping God:
1. We tend to be more heighted with anticipation of something that is going to happen.
2. We have 'wider eyes' so to speak speak and notice the details of that day and place (smells, sounds, landscape, people, needs and uniqueness)
3. We tend to have a greater openness to others generally (mainly because we have to rely more on others)
4. We have an extra energy to share the adventure with others when we get back. (This too influences how we absorb the moment I think because we already begin to think of ways to share it- whether through story, feelings or pictures)
Some of those moments and stories I have been capturing and processing in a way that I can start to share.

Bahamas
With a tent, two bags and a mask, I headed down to a very familiar island in the Bahamas—Spanish Wells. This trip was a bit different, because I came with a very searching and contemplative heart. I also felt I needed a place to just be alone. So with no plan for food (just fishing), no caffeine or alcohol and some good books, I began a week long silent retreat of sorts. It was weird not have others with me to share the trip, to ask "what is the plan for today?", or "What kind of sandcastles do we build today?" (having 3 girls is a different trip to Bahamas than being alone)
So I began a time of swimming, walking, reading, and a lot of just meditating on the beach. In those times, I was very focused on my deep human needs and how Jesus wanted to meet me in those times. As I hoped for profound and weighty thoughts from the bible and the collective wisdom of those who have gone before me, I found a different deep insight being introduced to me—The presence of the suffering Christ.
I felt in those time of reflection, Jesus was beckoning me to a portion of beach which was a place of letting suffering just be. I didn't discover this right away because I was too busy journaling and reading in a mental search for God to heal my deep longings. Yet, He waited for me each day in that place and I quickly realized the things I sought came with just being with God, rather than trying to understand Him. I realized this on day two of my seven day adventure. After that initial day, I would at first reluctantly make my way down to meet Him on the beach. Mostly because I know very well I am not comfortable with suffering-especially emotional suffering. Yet that is exactly where Jesus wanted to dig into. I have gone to counseling, spoken deeply over the years to friends over my emotional state, but nothing went a deep and shook me as these beach encounters. It was like a big plow was carving up the hard ground with all the roots, rocks and leached soil of my heart. I would have never thought that was the case of my heart before, but carefully and quickly Jesus opened this broken package up in me with amazing love, acceptance and care. And he did it with allowing me to see His suffering and tears for me--just lovingly sitting with me and allowing myself to be real about myself.
So many times I have seen the victorious Jesus, who is risen and very active in our world around us in the transformative work of the Kingdom-and rightly so. Jesus is also the suffering Christ, which I have seen so much in some of the work in drop-in, hurts of my community and the devastation of the global community that many of my friends are involved in advocating for.
But I have forgotten the suffering Christ is not just for the hurting world and destruction that is so prevalent in our world, but it was also for me. For my hurts, for my broken human condition. I was too conditioned to learn to meet the face of the suffering Christ in others and serve that need, that I forgot to look deeply at my own suffering. Jesus was not only wanting to suffer with me, but reassure me with His presence which in turn took on a whole new level of intimacy with God. I think also it is cultivating a deeper compassion in my heart for others who suffer as well. This is all new territory for me!!
Many other things happened on the trip but my major take away was this—Jesus is surprising very comfortable with suffering and being present in the midst of our awkwardness, anxieties and disoriented feelings. That presence is enough to begin the healing process. Those feelings and suffering may never go but this also doesn't make Jesus uncomfortable, but is a very deep meeting place of His compassionate and gracious heart.
Wednesday, March 30, 2011
This is a good question asked by a lawyer to Jesus. His answer was challenging for their ears and circumstance and I think it is no easier an answer for us today in 'western society', specifically Brampton
I'll start with a story of a single woman named Winifred. She lived in a quaint little suburban home on a quiet dead end street. She landed in Brampton in the 80's from England. Her strong accent was still prominent even 20 years later, but was soothing with her soft sweet voice. She was well into her retirement years and her aged body spoke of a full life.
She would spend most of her week puttering around her little home, making food, cleaning and having her best friend Gladis over for tea and grocery shopping. Gladis came over every two days. On the surface it seemed Winifred was content with her life. At parties (which she sometimes went to), she would arrive, sit quietly with hand bag on her lap drinking the warm 'Guinness' she had brought with her. This was her life in Brampton.
One day after Gladis left Winifred to unpack the groceries and Winifred had stroke. The ambulance arrived on the quiet street one day later to rescue Winifred who lay lying on the floor in her kitchen. She died on the way to the hospital.
Winifred died not because of the stroke, but because she lay neglected and alone for so long. Dehydration and the nutrients needed to recuperate from the non fatal stroke were not available to her, even though her groceries were probably all around her on the floor. She needed some other body to help her. She needed a neighbour to watch out for her. So this asks the question, "Who was Winifred's Neighbours?
In Brampton we are lacking as a healthy community(generally speaking). Like anything this was not something that happened overnight. It was more like a slow growing yet deadly cancer formed by rapid growth, consumerism, poor community planning, prejudice, people looking out for themselves, busyness,,,, and the list goes on. Brampton has 40% of the population moving in 5 years, most of the working population (88%) are commuting, which complicates our lack and needs exponentially because it is rare to find anyone who has ownership in our city. In the end though, we can identify quickly enough that we are quite apathetic to community (again, in general). Now let's go Back to Winifred's neighbours.
Who were they? Did they not care? Were they too busy? Was self focus keeping them from having an awareness of the ones who are marginalized? Maybe they were so dealing with their own problems and ambitions so much that they had to get busy to be successful in life in Western society? If you had the chance to talk to them, what would you say?
Well, I was that neighbour. Winifred was at our backyard party with her Guinness and sweet voice. We chatted only a few times, but I was busy. Busy doing what? I worked in a ministry at the time for youth at-risk. I was too busy doing 'good kingdom things' at such a pace, that I left no margin for my neighbours.
We were shocked to see the ambulance and to finally hear the news that Winifred was gone. I asked myself "How did this happen?" but more importantly I started on a journey to ask "how can I grow in my awareness of others?" –especially those who are marginalized and excluded.
SO I go back to the questions the lawyer asks Jesus "Who is my neighbour?" (Luke 10:29) Jesus goes into the story of the good Samaritan. My take in this story is that the too busy and too religious people are shown how to do effective kingdom ministry by the outcast of society. Jesus could have chosen anyone to play the role of the 'hero' to help the man who was beaten, yet I have to believe he was deliberate in casting this character for the hero. I quickly lead to this- who are the Samaritans of today?
By Samaritans I mean the ones who are the outcasts of the 'in group' (Christian, Church goer, Ministry worker). They may be people who we are near each day, but have a deep and profound lesson to show us through attentiveness, awareness and care for others. IT could be as simple as the one who opens the door, who lets someone else go first, who shovels the driveway of another to things like; giving someone a ride, giving food or money to those who need it or even visiting the elderly.
I jump quickly here but I am struck by the challenge once again not to think of myself the only carrier of the 'Kingdom', but to actually partner with those who are living around me regardless of their belief, abilities or differences. I could maybe learn from their attentiveness and care. I could actually grow in my relationship with Christ because of them. And maybe Christ is withholding His complete nature from us unless we deliberately partner with the Samaritans of the day?
The other thing is who is the Winifred's of our society today? Maybe the alone, marginalized, forgotten/neglected, the poor, the hurt, the hungry, the abused. How can we have more attentiveness and awareness of one another?
Thoughts?
Sunday, February 27, 2011
I have been celebrating in my journal time recently about the stories of lives that are growing in a relationship with Jesus. Some are stories of an arousal to spiritual things by investigation of where God is active. Some are stories of awakening by committing to following Jesus, and some are stories of a growing alertness and attentiveness to a relationship with Jesus. Some are stories of compassion that meaningfully encourage and bless people. Some are stories of reconciliation in broken relationships and some are stories of life focus and moving forward. Overall the impact we are seeing through the Brampton community is a story of Jesus continuing His mission.
I am personally challenged and encouraged by these stories. In fact I find myself fed in a spiritual way I have never had in my entire 'Jesus following' life. You see I have a problem. I call it Spiritual Narcolepsy.
My Grandfather had Narcolepsy. There are many stories of how our 'Papa' (that's what we called our grandfather), fell asleep at different places or during many activities. Some of them are quite humorous like when I was a child, papa and I would go out on the snow machine at night for a cold ride. One night in particular I remember we were out and the moon was very bright. He took me around a field zigzagging through the field and all of a sudden he started leaning to one side and we tipped over for no reason and there was snow in our faces and snow suits. I laughed and went to papa and kind of jumped on him as to say, "Hey you did that on purpose". I now look back realizing that he had fallen asleep driving and I woke him by jumping on him (this wasn't the only time).
My dad would also tell me that when he was a boy, papa would fall asleep at the wheel of their truck and they would head into the ditch. The bouncing truck and jolts would wake him and luckily they could back out of the ditch (although sometimes they had to get help). He would look to my dad and say, "Don't tell your mom." There were also many times he would fall asleep at the dinner table. We laugh now when we talk about those stories. Some of this story is serious and sad because my papa died on the lake fishing when he fell asleep on the water and drowned, we think it was related to the narcolepsy.
This is kind of like life sometimes; spiritually speaking. Our spiritual radar falls asleep without being aware until something jostles us out of the subconscious mind. It's the distractions, busyness, tasks and other important things that keep me from being fully awake to the work and presence of God all around me (and I get paid to do this, so how much harder it is for those who aren't paid!)
I think spiritual narcolepsy is a great analogy for the church's condition (which is actually curable, unlike physical narcolepsy). Apathy is killing the church and especially western society. The stories of others sharing how they are seeking and responding to Jesus can be a wake up to consciousness and the activity of God. We need to also find better ongoing ways to keep us from nodding off with daily wake up practices. Spiritual companions, and groups, can help us with our common condition of spiritual narcolepsy.
Questions:
How do we cultivate environments of alertness and attentiveness to Jesus in our setting? (Could be worship times that celebrate Jesus' story working in and through us)
How do we place a day by day jostle and jolt mechanism in our lives as to keep us awake in our spiritual lives? (Spiritual alarm clock)
Monday, November 22, 2010
Just recently had a leadership retreat where an analogy was given by a woman. It was of our society and the hidden/sheltered hurts of people. The picture was of a river in a park and all the houses around were distanced from the river. River is a picture of a life source, the homes are a picture of the society which values separation and our 'little castles'.
We have had three youth closely connected or a part of our community commit suicide in this last month. Many ask the questions, 'why' and 'how did we not see this?' We are so affluent and we have all the technology that allows us to feel connected to each other (the youth who committed suicide were active with cell phones and facebook, etc). Yet we are 'alone together'. It seems to keep hurts more hidden. There is a sense of being too late to help people.
It has impacted me and reminded me of this story that had many hidden hurts. It took many years for the story of Tina to be known and unfold. There were many people involved in this story and I tell it from my view (as one of the many).
Tina
She first came to the drop-in within the first month of us opening. Very quiet at first, but once you got to know her she would talk and talk. It seems she had no one to listen to her all her life. At the age of 15 she had seen more than most at age 40.
Her father was an alcoholic and verbally abusive. Her mother was physically and verbally abusive. Her father would also beat her mom. She remembers her one brother being beaten to a point of where he didn't come out of the basement for a day. She learned to leave the house or find a quiet corner to avoid her fighting parents. Her one brother after being beaten, walked out in to the cold and froze himself to death. When Tina was in young, her dad killed a man in a drunk driving incident. She was ostracized at school and everywhere she went. Even her cousins who lived close to her didn't talk to her.
Her two brothers went out for a car ride one day and got into an accident. The youngest died and the older brother felt so guilty, he committed suicide in the house the next month. This was her life and all she knew. She reflected this pain in her choice for boyfriends. They were also abusive. She was rarely without a boyfriend.
She probably attended the drop-in the most out of anyone and truly felt it was her home. Tina helped out in the work crew and came to any event that would help the drop-in. She even cleaned the drop-in with a gang of youth to keep it tidy. We didn't have many volunteers and so I was left to open the drop-in by myself. Tina would come as soon as I opened the drop-in, way before anyone else would come. (I spent a lot of time out the deck---for accountability reasons-not to be alone with a girl). She would spend hours telling me a lot of things and drivel information to pass the hours over a game of scrabble. The information would every once in awhile share from dark places. Her escape was art. She would draw for hours and was very good at it. She filled much of our art wall with her pictures. She had a very low self-esteem. She could never see herself of any worth because her dad always called her useless. She would come many times to drop-in dressed in a way to attract the boys. Her style of dress prompted her dad to call her a 'little whore' or a 'slut'. She was always worried about her weight and would starve herself sick. At many times she would have nervous break downs and would be crying on the couches many different days. She would call me when she wasn't at the drop-in at times bawling over something her parents called her.
She came to me to become a Christian. She has seen me spending a lot of my time with other youth who had become Christians. I asked why she wanted to become in a relationship with Christ. In the end she was doing it for me. I realized I had become her father figure. She didn't become a Christian at that point.
She started dating a guy named Steve who was an alcoholic. She got drunk for the first time with him and showed up at the drop-in. She was laughing and giddy. She could see I wasn't impressed. They went back to the house where they got drunk and she sent a friend to see what I thought of them coming in drunk. I relayed on to her that I was disappointed. The whole group came back crying and full of sorrow for what they had done. She needed to talk to me as a daughter to a father. We had to go for a walk to get off all of the guilt that was on her. I forgave her which seemed to help.
She ended up attending a lot of the bible studies and came once to church with me. She never ever came to me to inquire of how she wanted a relationship with Christ again. She needed to belong.
Her parents avoided the drop-in and became very suspicious about what the drop-in was all about. They would lecture her for hanging out there so much. I once made the attempt to come their vehicle to talk to them. They seem reserved and distant. It wasn't until the mother came to a fund-raiser event for the drop-in that I would make some connection. I met the mom and she was put at ease over what the drop-in was about. I finally went to the house and met her father. He helped me with repairing my old car and soon became trusting of what the ministry of drop-in was about.
Tina has since struggled with meaning and value for her life. Many could have not known this story without years of trust building and her feeling a sense of dignity and belonging. They would have kept judging from a distance, by her dress, her families appearance and other surface measures.
Concluding thought
Our community has been trying to be just that--community. It means that our lives have to be available and watchful to what God is doing and to listen to the stories of those around us. This will sometimes take a lot of time and many people. It will be messy. In the drop-in we have said 'it has taken many years for the youth to get where they are and it will take many years to get back'. We are experiencing this messiness. This time and effort is worth it.
It is the need of our community right now.
I am saying in our community over an over right now "The most devastating in our western society right now is not homelessness, abuse, gangs, poverty, grieving, oppression. The most devastating thing is that people are going through all these circumstances alone- with out community.
Praying for those who have lost or are losing someone this month.
Friday, October 22, 2010
I have resurrected this blog 5 years later and still see the challenge of this painting and what it means for me in my life (family, street, job)
Once I was given a picture by someone that seemed pretty plain. I read their explanation for giving me this and it became alive and it still has me very deep in thought. The picture was a painting called "The Gleaners".
The plain scene and dull colours are purposeful in depicting the emotion of the women in the field 'gleaning' the crops. The write up beside the picture from a friend we'll call 'Doctor Love' read like this;
"At the end of the day, we often feel like those sad looking workers in Jean Millet's painting that are stooping over attempting to pick up what looks like.......well, practically nothing. The typical feeling is one of hacking a path through dense jungle with a machete. We focus on the work and forget that maybe there are others waiting behind us to follow in our footsteps; folks who need a road even more than do — imagine that!"
The Harvest
The harvest has already been taken in. Others have gone before some time ago and have reaped the golden, bountiful crop. They celebrate as their barns are full and rightfully so because the harvest was ready and they were there to take it in. The farmers didn't take it all in, but some practiced leaving some for the poor/gleaners and some didn't want to use the effort to go back and 'glean' the rest would be wasteful and they have enough for winter. These women don't and/or are not going to let perfectly good seed and sustenance go to waste.
The Field
What was once teaming with golden practical riches, now lays trodden, reaped and barren. The dirt now is exposed and the wind can touch the earth which was once before protected and sheltered. The birds of the air can see clearly into the soil and the farmers are walking away from a land that can not offer anything else to them. The use of the land has served it's purpose for this season, and maybe the attention will be given back to the region once it shows potential for use once again. This seems to be the cycle of this land. Slowly over time, over the years the soil is losing it's ability to give. It will produce once again but some care, rest, fertilizing, plowing, and planting will be needed before that can happen again. It is only given to, because it can give back and then left.
The Women
Are these women poor? Are they wise in their work? Have they been hired to 'glean' the field? Or have they snuck into the field at the exact moment the horses and carts moved to the barns in plain daylight? Regardless, their work is for what was left from the harvest. They are not dressed in the best of clothes and their posture, -stooped over- does not have dignity of women who would come from wealth. The wealthy have a way of carrying themselves differently. They leave themselves open for comment by all who see from the farm hands to the village people.
If they are poor and granted access to the field, they are an example to all who watch because they have found value in a 'seemingly' barren field. The poor always have a way of finding value in wastelands or the metaphorical deserts in the wilderness. Their determination and attention to detail is not a value but a survival mentality. Yet that survival mentality puts them in possession of valuable sustenance and potential fields of their own. The potential of what they grab makes them richer than what it seems, because what they hold could next year give there own field to harvest. The poor have a way of finding potential value in all circumstances, people and themselves. Maybe it is the farm hands who are 'rich' with the harvest can learn from these women -maybe we can too.
The Gleaner in Me
I have to say there is something 'holy' and truthful about this painting that speaks deeply to me. In a season of reflection (fall 2005), I have thanked God for His faithfulness to me in eleven years of ministry with 'youth at-risk'. In so many ways the parallels and lessons apply to the demographic of youth who have been used, overlooked, looked down on and they find themselves trying to 'glean' in their own way for something of value. That is not what speaks so deeply to me though.
It is the 'gleaner' in me that I am faced with. I am the land, I am the women, and I am the left over grain. At many times I feel God has allowed me, like the land, to produce amazing crops in my life, -in ministry, but now I have not much to offer and it is time to go through a winter and take comfort in being covered by a thick blanket of snow, to heal, to rest and to protect so that the gleaners don't take my last remnants and reminders of great harvest times. I need the rest.
I also have felt like the women who have worked and are still working with diligence towards their survival and greater times. I have felt the benefit of this kind of discipline even though it means my efforts may be looked down on by others. They see me bent over, not having the best equipment and the parade of all those who took in the harvest. No one has come to help gather the measly remnant. There has just been a few who have seen this value with me. They are not my competition but coworkers. They are not my critics but my company. I can see the harvest in the back ground as others have been quite successful. This could be a reminder (and has been) of what I can not have in such abundance. Lately in my reflective state I see that harvest giving me vision that can not be touched. It is the vision of the seeds I have found, gathered and possess will soon be the huge mounds of harvest that will store and supply many. My fingers will get sore from repetitive picking and bare scratches that come from stubble left by the harvest. My back will be sore from the constant bending and leaning. This is a position of humbleness and servant hood. Somehow as noble as this all seems, I complain and feel like all my best is being taken -even robbed of that which is necessary. Those are on the bad days when it seems the vision of the harvest has been stored away, out of sight and the heat has blurred the potential of what I hold.
My biggest fear is I think like all who are in ministry. Is what I am doing significant? Does it really help or hinder true and good growth. Has the heat gotten to my head? Do I have the energy to go on being bent over? Do my eyes and fingers hurt from the precision detail of the small harvest? Are my companions feeling the same?
I write this now with in my first full week of my new job as a 'lead' pastor. I am welcomed in the midst of adjustment and some uncertainty. I am also feeling great comfort from this painting "The Gleaners" because I realize that what I have learned,,, what God has implanted in my heart through the years of drop-in work with the marginalized is what will be a testimony to me and others through this work at The Meeting House Brampton. Jesus came to be the one to give abundant life, victory and transformation. Those who looked for successful 'harvests' saw a poor man with no home, positioned as a servant, and made to be physically broken up. They invested into more visible harvests of wealth and power. At times Christ probably felt like the land just being 'used' for His healings, food and words that tickled ears but didn't touch their hearts.
This is what I see God has for me in Brampton. To be the 'Gleaner', to be His gleaner that gathers and serves in a field that seemingly has no value. The work is not enough to keep me going but the presence and voice of Christ in this field who has some small seeds that need to be taken, blessed, cultivated and released to become a harvest in Brampton, in the heart of those I work with, and in my heart. In this way the workers for the small harvest are in that which is being harvested in me and in the field. Look back at the overall painting,,, do you see the rich colours? Do you see the great potential?
-joe -Jan 06

Monday, October 18, 2010
This is the ongoing story of a family that the Home'less' Home Church helped out last spring with some renovations on their house. They had some major financial struggles and health issues and really needed a hand. A helping family let the home'less' Home Church know about the need and they were really encouraged by the renovations.
This family has continued to have financial struggles due to the mother's health and the need for father to be at home to care for her. They had their gas cut off months ago because of an unpaid outstanding balance so they have been taking cold showers and living without gas but now that the temperature is getting colder they are unable to turn the furnace on and it is getting to be more of an issue. The kids go to the same school as one of our families who helped connect the Homeless Home Church and sees her daily and she has broken down in tears on more than one occasion. This family decided that they would organize a garage and bake sale to try and raise money to help out. This took place in the morning in front of the kids school. They had a small collection of stuff to sell but instead of pricing everything, they just asked people to donate to help a family in need. From that small collection of items to sell they raised $300.00 in 3 hours so they were pretty excited.

This serving family and friends have connections to a Boxing organization.. They were hosting a boxing event at their club last night and offered to try and raise money at the event. They had someone donate raffle prizes and all the proceeds from the raffle went to help this need. They also had a donation box and asked people to put their change from beer sales in the box. The Boxing organization owner was the in-ring announcer for the evening and told this story a few times while asking for donations. He even had the friend come in the ring while he was telling the story to the very diverse crowd which was a cool experience for her. In all, they raised an additional $400.00 for a total of $700.00 for the day. The announcer also wanted to hold a poker night to try and raise the remaining $500.00 that they need.

In reflection, there are times when we may question life or ask why we know God exists.. With some thought we know God is real because we can see Him in the love that people have shown to each other.. God was real in a blood spattered boxing ring that night amongst a crowd of people who ranged from girls in tight shirts and mini skirts to bandanna wearing bikers, to elderly grandparents, to testosterone filled boxers. The boxing event was a lot of fun and we can gain a new appreciation for the sport and people who do it but also reflect on the bigger things that were happening there, I feel a sense of awe and wonder at how God reveals Himself through a display of love. In this case, a place that exists as an arena for combat became a conduit for love. It was so cool to be a part of."
Monday, September 20, 2010
I have been encouraged recently to repost this entry from long ago
I believe the bible is true when it says 'be aware for you never know when you are entertaining angels unaware'. I don't know what an angel is supposed to look like or how they are supposed to act, but I know that a being who impacts your soul with a word from God could very well be angelic.

I was on my way to church one early Sunday morning. It was a cold November day even with the sun out. I was in my first year of working at Switch Yard and feeling pretty good about myself for being such a 'man of God' in ministry. I was especially proud because I believe God had spoken to me the night before giving a great message for me to share in the brethren communion service (great service where all can share about the work of Christ leading to the cross). I had practiced my presentation and the points and execution was going to come out just right.

I had a lot to prove to the listeners at this church. Some of the leaders didn't believe the ministry of Switch Yard was viable. And they were not financially supporting it nor were they praying for it. I was the least likely candidate, in their eyes, to lead such a front line ministry. This was because of my past. At this point I had served in Sunday School, lead the youth group for two years and had spoken and acted in many plays for the church. The way we did evangelism was frowned upon by most of the congregation and elders. I had to explain at many times the way I saw God working in Bancroft and How He was doing His work through Switch Yard. Even after I announced the first youth becoming a Christian I was given skeptical looks and comments. To say the least I had to prove that God would use me in a powerful way. I was busy rehearsing over and over again the great insights to perfect my performance.

My walk was brisk and I knew I had to get my tithe money from the bank first and than I would make sure I got my usual seat. I was dressed up in a suit with a tie and a nice pair of leather shoes. As I approached the bank, I saw a man about age 35 walking around in the cold morning without shoes and socks. He had a backpack and overalls with him. His long curly blonde hair bounced with his every step. He was asking another man at the bank about shoes and the man waved his hand away with a head shake as a response. The man put his focus on me as I entered the same sidewalk space. I felt nervous and thought, "Please don't ask me for anything right now, I have important things to do."

Sure enough his question came, "Hi there. You wouldn't happen to have an extra pair of shoes wouldja?". The smell of old 'bloody ceasers', beer, and smoke told me half of his story. I said, "Sorry, I just don't have time now to do that. I'm almost late for church."
He then asked "Well is there a coffee shop open right now that I could warm up with?". "Sure", I said, "It's just down the street in the direction of where my church is. I will point it out to you. Let me get my money first."

I kept a brisk walk hoping somehow he wouldn't talk much to slow me down. I wanted to show him that I thought it was so important to be in church. This was a good example I thought. I asked him a bit of his story to keep the ten minute walk interesting. He told me he was up for some karate tournament and that he won it, but the judges recalled the trophy because of some technicality. Pissed off he went and got drunk and made his way back to his tent that he was staying in for the weekend on someone's property. He made a fire and went to sleep. In the middle of the night he woke up with the sounds of sirens and bright flashing red lights of police and fire trucks. His tent had caught fire and so did his belongings. Very tired and confused he stumbled out to have his tent put out and the police gave him a warning for fires, drunkenness and camping on someone else's property. They put him up in a cell to sober up where he had to leave in the morning at 8 o'clock. All he could salvage was his gym bag and what he was wearing from the fire. His description of the whole incident seemed humorous to him now. He used colorful profanity in every sentence.

I thought to myself, "Thanks for your story, but you are distracting me from the presentation I'm going to give. And I guess that's what you get for getting drunk and angry". We were soon at the church. He changed the subject, "So you are going to church?"
"Yes", My tone was almost pious and condemning.
"Well I believe there is a God", he said with some sincerity in his face.
"Oh that is good.", I replied.
"Yup", he said with a smirk.
I was wondering if he was mocking me but there was something definitely sincere about him. We came to the church parking lot.

I pointed further down the street to where the coffee shop was and told him that would be a good place for him. He thanked me and made his way down the street not looking back while I busily made my way past the warm lobby, with the smell of hot coffee brewing, up the stairs to the comfortable pew ready to impart Godly wisdom to my skeptics of how I was such a great minister.

I was just in time. I was in fact the first to stand up and give my divine revelation for all to whisper and think "What wisdom comes from such an unlikely source". My five minutes of wisdom quickly ended as my voice reverberated off the white walls. There was no surprised looks, no 'amens' or even a reassuring face that I had done a good try. I sat down smirking thinking to myself about how I was throwing pearls to swine. I had given a great thought and it may have been so deep that the crowd of simple minds could not register it all in that moment and they would need some time to ponder such excellence.

My parade was interrupted with the thought of the man barefoot on the cold streets. A great cutting feeling of hypocrisy swept over my guts and soon over my face.
"I'm an idiot!!", I said. Here was a perfect opportunity to give to someone and I had my own agenda that overlooked another human need for warmth.

I squirmed in the seat not knowing what to do, pleading with God that he would forgive me and give me another opportunity to serve this man. I got up immediately in the beginning of the service and went to find the cold shoeless man. I ran up and down the street. Bancroft is not a big place so I figured I could find him easily. I didn't. I went into the coffee shop and any other stores that were open at that time in the morning. He was no where to be found. After 45 minutes, I gave up. I made my way back just in time for communion. I felt guilty for taking it. What a great and godly minister I was turning out to be.

That service ended and I went out once again to see if I could find him. He was no where. I went in for the second service. I don't remember one word spoken that day. Just anxiety and guilt. I asked once again for God's forgiveness but each time I felt like God himself was crying for me. I had failed the test to serve. The service ended. I stood in the lobby with some of the youth as a stared blankly into the street.

One of my friend asked me if I was all right and I hardly looked at them because something was catching my eye. A man with a curly hair bounce. I was out the door in a flash running up to the man. I had no clue what I was going to say, but I started with a "Sir, Sir." He turned as though I must have been addressing someone else. He waited for me to catch up. I stood in front of him ashamed. He smiled and continued walking in such a way that invited me along. I began to apologize to him for the hypocrisy I showed him. I told him how I though it was so important to share this thought I had last night to the congregation. He just listened and kept walking. I finally told him "Listen, I am misrepresenting the very Jesus that I went to worship this morning. Jesus would not have done that or thought a service is more important than a man in need. Can you please forgive me?" He stopped and looked at me like I was the coolest new best friend he had.

I asked him if he still wanted shoes. He nodded as he looked at his cold feet, red with white blotches. I immediately sat down on the ground and took off my shoes.
"I hope they fit you."
He looked in shock and said, "I can't take the shoes you are wearing now."
I assured him it was fine and that I had an extra pair at my work where I was going. As I was taking off my shoes, he told me he was able to get a hold of some friends that were going to pick him up in an hour.

I handed the warm leather shoes to him. He smiled and tried on the shoes. They were a perfect fit. I could see relief on his face as though there was an instant warmth that came over him.
I said to him, "You can keep them if you want. I just work over there if you don't want them" as I pointed to Switch Yard.
He tried to assure me he would give them back to me.
I said either way was fine.
I finally said, "Listen, I have to go to work soon so take care of yourself and I will be praying for you that all works out".

He turned to me, and with great confidence, peace, and sincerity he said, "No Joe, I will be praying for you". He turned and walked away. I sat there dumb founded for a second at his confidence and the feeling of peace. His words cut right to my heart and seemed sourced from something much bigger. He rounded the corner and he was gone.

Than it hit me, I never told him my name! He had blessed me by name and I never had given anything to him to let him know who I was. "I will be praying for you.." It sticks in my mind even now. "Joe, I am praying for the important ministry you're doing. I am praying for your insecurity to prove yourself to others. I am praying that you will learn in a deeper way what it is to seize the moment I am working in. I am praying that you will continue and finish well in the work I have for you." I felt God was speaking very clearly to me. It wasn't said but the confidence in his voice spoke of all these things to me. Tingles went up my neck as I walked to Switch Yard thanking God for His goodness, a second chance, and an angel of blessing to me. I never saw the man again.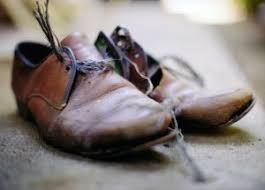 I believe in heaven God is asking all of his angels to go undercover as people of the world. I bet you the hands shoot up when God asks for volunteers. I bet you they request to be the sick man, or the bum on the street or the foul mouthed stranger that comes to town just to be the most unlikely person that is from God. I bet they can't wait to see a Christian grow through the opportunity they present. I bet you they have come many times and are not even noticed because of our calloused hearts that are not responding to the immediate need or call to action. I bet you.
-from life stories journal 1999, joe